SIM Card Punching 4 Stations Machine est utilisé pour perforer les cartes SIM avec quatre fonctions différentes. Il adopte des moules précis, peut perforer la carte SIM standard 2FF + 3FF + 4FF, la demi-carte ou la carte quart sur la base de carte standard. En modifiant les moules, on pourrait perforer une carte non standard, une mini carte ou une carte irrégulière, etc. Ce modèle de machine à poinçonner SIM pourrait parfaitement répondre aux besoins de poinçonnage des clients de la fabrication de cartes à puce.
Caractéristiques:
1. Il peut éventuellement punch simple ou double Multi-sim avec demi coupé en une seule carte.
2. Convient pour poinçonner une puce unique, une pâte double ou une carte à quatre chips, il suffit de changer le moule. Lorsque la demi-carte perforée, l'estampage ou la coupe peuvent être choisis.
3. La direction X, Y du moule de poinçonnage peut être ajustée.
4. Contrôlé par servomoteur, faible bruit et stable.
5. Fonction de détection de cartes double.
6. La fonction de détection de carte assure le bon sens de la carte lors du transfert.
7. Le design de localisation spécial peut percer différentes cartes avec des formes spéciales.
8. Deux modèles d'alimentation différente; Les cartes peuvent être collectées automatiquement.
Paramètre technique:
| | |
| --- | --- |
| Dimension: | L 1900*W 1000*H 1550㎜ |
| Weight: | 900 kg |
| Power supply: | AC 220V 50/60HZ 20A |
| Power: | 4 kW |
| Compress Air: | 6 kg /cm2 |
| Air consumption: | 60 L/min |
| Control method: | Servo system + PLC control |
| Tolerance: | 0.01 mm |
| Operator: | 1 person |
| Applicable materials: | PVC, PETG and ABS mixed material cards |
| Output: | 6000 pcs/h |
| Life length of molds: | Only need to be whetted every two million times punching |
| Product percent of pass: | 99.8% |

Profil de la société:
Shenzhen Yuanmingjie Technology Co., Ltd a été fondée en 2010 pour la recherche et le développement d'équipements de fabrication intelligents. Avec de nombreuses années d'innovations et de développement, Yuanmingjie est devenue la High Technology Corporation qui a une grande réputation en Chine et à l'étranger. Yuanmingjie est l'entreprise innovante de Shenzhen et membre de l'association de l'industrie du logiciel Shenzhen, nous avons également obtenu une identification crédible de l'entreprise à Guangdong.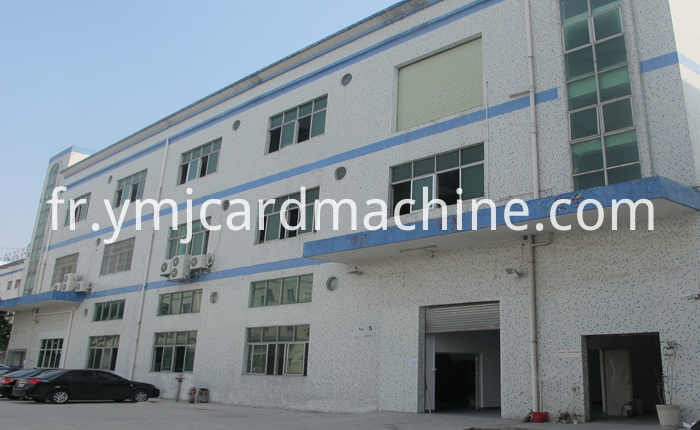 Yuanmingjie a intégré la R & D, la fabrication et les ventes, qui se concentre sur la fourniture d'un meilleur équipement et une solution d'installation de support pour les usines de cartes à puce. Nos principaux produits comprennent la ligne de production pour la carte à puce de contact, la carte à puce sans contact, la carte à puce à double interface, l'étiquetage électrique RFID et l'équipement personnalisé.
Les élites sont appréciées par la technologie Yuanmingjie, beaucoup de professionnels ayant plus de 10 ans d'expérience dans le développement d'équipement se réunissent ici. Avec tant d'années d'innovation technique et d'expérience, Yuanmingjie révolutionne la dépendance traditionnelle des entreprises nationales sur les techniques étrangères, atteint une position de leader en Chine, qui adopte tout d'abord la technique avancée d'incorporation ultrasonore et Precision Vibrator Bowl. Pendant ce temps, les équipements de cartes à puce à interface double et le broyage et l'encastrement d'un équipement en deux comprennent un brevet national d'invention et un certificat CE.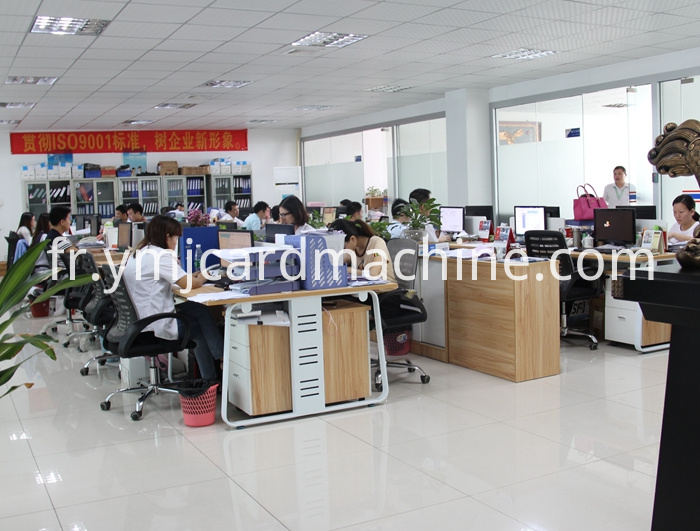 Spirit of Yuanmingjie: Développer nous-mêmes par guide du marché, pour gagner des clients par crédibilité, pour gagner en réputation de meilleure qualité.
Mission de Yuanmingjie: créer une valeur constante pour les clients et la société.
Vision de Yuanmingjie: Avec l'innovation technique constante, la sagesse et les efforts des membres de yuanmingjie, nous répondrons aux besoins actuels des clients et créons des besoins élevés, pour être le fournisseur de solutions techniques et d'équipements automatiques haut de gamme.
Groupes de Produits : Contacter la ligne de production de cartes à puce > Machine de poinçonnage SIM